We Know Salespeople. And We Know Fun.
(And we know some salespeople who are a lot of fun.)
March is Concession Month here in Zentila-land, and all month we've been sharing tips about how to get the most from your concession requests. (As a quick reminder, concession requests are those "sweeteners" you'd like the hotel to offer you at a discount, or sometimes at no expense to you.)

This week, you'll get a peek behind the curtain in the hotel sales office to see exactly how hotels respond to your concessions through Zentila.

But first, Zentila's design philosophy: Make it simple and fun, and people will love using it.This is why we created the first drag-and-drop agenda builder, and why we developed the RFP Genie. (Er, uncorked him. Sorry, Genie.) And we really took our design philosophy to heart when we built the way for hotels to respond to your requests. Take a look!

This is what the hotel sees: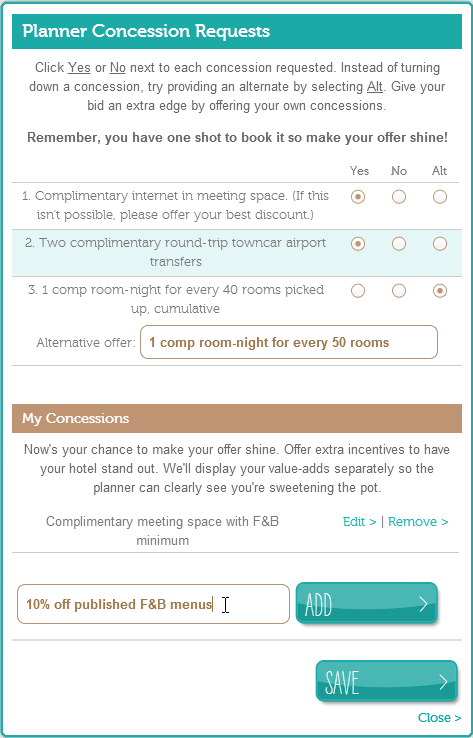 For each request, the sales manager can select Yes or No, or provide an alternative. So you know exactly where you stand on every request. More importantly, Zentila encourages hotels to add their own "sweeteners" to make their offers stand out. It's amazing how just asking the question "Anything else you'd like to offer the planner?" can result in a whole treasure trove of additional concessions.

If you've already booked meetings through Zentila, you know we're passionate about making the hotel sourcing and booking process as easy and efficient as possible for you. When you're ready to book your next meeting, swing on by Zentila.com. We'll have complete proposals for you in under a day, and we're betting that you'll be blown away by the offers. Best of all, we'll capture all of your meeting spend information for easy reporting.

Zen on!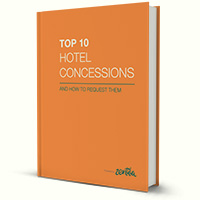 Learn how to request hotel concessions and save your company money.