Supercharge your RFP by sharing your meeting history.
In my last Zmail, I laid out the case for why your meeting history is so important to hotels and the secret strategies they employ to get your prior year's meeting history. This week I'll answer common questions about how hotels use your history and how you can get better deals from hotels because of it.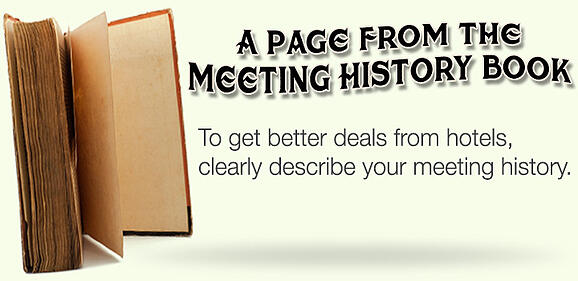 First, a quick refresher. Meeting history is simply a record of your meeting's past locations and room pick-up. Hotels will almost always ask you for your history before heading into the final negotiations. It's in this history that many decisions are made regarding pricing, availability, and overall value offered from your hotel partners.
Why is this important to hotels and to me? The answer is "credibility." When hotels receive a new meeting request, they need to judge whether your meeting is likely to take place as you described it. Are you going to use the meeting space you are requesting, and will you pick up the guest rooms that you commit to? Sure, past performance does not guarantee future results … but it's a pretty good indicator.
Providing your meeting history is one of the best ways to build credibility with hotels, and that in turn helps you drive better deals. By showing the hotel that your room block and meeting requirements are relevant – that this is not a first-time meeting, and that your group will be about the size that you say it will be – you'll ensure that hotels will jump through hoops to win your business. When hotels have evidence of previous programs at similar properties, they're far more likely to offer better deals. So sharing meeting history with hotels is a powerful incentive for them … and for you.
Can't I just make something up? Not a good idea. Nearly every meeting hotel has a history coordinator, whose job is to contact those other hotels to confirm the room block (what you promised) and the pick-up (what actually happened). So it's really important that the meeting history you provide is accurate.
When should I provide my meeting history? Do it at the very beginning of the process, when you first send your meeting request to hotels. Remember, you need your RFP to stand out from the ocean of requests hotels get every day. The best way to do this is to show that the meeting has happened before and has taken place at hotels that are similar to the ones that you're sending the new RFP to.
What happens if this is a first-time meeting? Well, you might still be in luck. If you have history from other similar meetings, you can say, "This is a first-time meeting. We have history from other meetings." Then provide the meeting history for those other meetings. This will show that you understand the importance of history – and more important, that your meetings are real and valuable.
But if you are planning a first-time event, and your company has no history of holding other meetings in the past, you'll need to do a little extra work up-front to help create the credibility you need for hotels to offer you great deals. The focus should be on how you're going to drive attendance for your meeting. It may be as simple as, "This is a mandatory meeting for all western region salespeople."
Some other ways include describing your key marketing tactics, the size of the universe of people you're going after, and top speakers you have confirmed for the event. If you're a professional planner and have a history of planning meetings, make sure you mention your own tenure.
Meeting history is an element of your sourcing and booking process that can often be overlooked. Make it a point to call out your past performances, and you'll be surprised at how attentive your hotel partners will be – not to mention the offers that will come in as a result.
---
Download the free guide and you'll learn to:
Book your meeting with the hotel you really want

Get complete bids from hotels on the first try

How the hotel sales process works

How to create a GREAT eRFP that demands attention