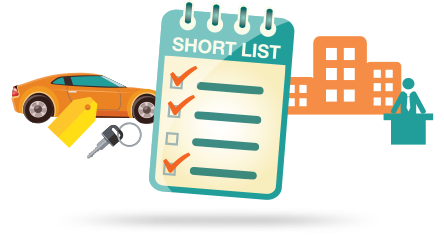 Booking a meeting can be a bit like buying a car. You compile a list of models in your price range. Once you've had a chance to do your homework and test drive a few cars, you narrow your list down to your preferred vehicles.
Here's where you have negotiating power.
You have proven you are serious about buying, but haven't yet committed. Your car salesman is all ears now, you might even hear the old line "what do I have to do to put you in this car today".
The same strategy works when booking a hotel for your meeting. You wouldn't consider visiting only one dealership to buy a car, so why would you call up one hotel and ask for their "sticker price"? Get hotels to compete for your business. Submit your RFP to at least 3 hotels – but no more than 8 - 10. It's especially important to shop around right now. If you haven't already heard, hotels are enjoying some of the highest occupancy rates seen in the last 20 years. Like it or not, this shortage of inventory is driving rates up and availability down in every market across the U.S.
Want to create the ultimate competitive edge?
It's all about the Short List date.
When you submit your meeting request, create a similar strategy to buying a car. Tell the hotels when you plan on narrowing the field to just your favorites. Follow these tips:
1) Set a Short List date
This date isn't your final decision date – it's simply the date when you tell the hotels whether they are still in the running. This will motivate hotels to respond more quickly and likely results in a great offer. The "short list" date is very effective when done right. Here are a couple of rules to remember about using the short list date.
2) Tell the hotels who they're competing with up front
Besides the short list date, include all the hotels that will be receiving the meeting request

at the top of the RFP

. Knowing their competitive set is key to sparking interest from hotels. Combine that with the short list date and you have a recipe for a competitive bid process that ensures you will get the best possible outcome.
3) Keep the short list date close
Keep your short list date close to the date you sent the original RFP. You should need no more than a 3 – 5 days to review the proposals and select the ones that jump out at you. Or, think about it as eliminating the proposals that you know won't work for your meeting.
Remember that a proposal is not a 'hold' on rooms or meeting space – and it has a brief shelf-life, with rates and occupancy changing every day. So moving quickly lets the sales managers know that you are interested and has the added benefit of keeping them engaged.
Here is the time to negotiate – when your sales manager is eager to book your meeting. That means they'll be receptive to special requests and could offer concessions that may not have been included when they were one of many hotels. That's the power of the Short List!
The short list strategy and other best practices for sourcing hotels are built right into Zentila's booking path. Our super-intuitive solution simplifies the process of selecting and booking the perfect hotel. Our customer success Gurus are behind the scenes to help every step of the way.
Book your meeting with the hotel you really want
Get complete bids from hotels on the first try
How the hotel sales process works
How to create a GREAT eRFP that demands attention

Download Now >>