You may be familiar with Zentila's booking engine, which helps planners connect with hotels and book meetings more efficiently than ever before. But you may not know what Zentila really does. We help companies manage their overall meeting spend and save 12-24% on every meeting they hold.
Visibility into Travel & Entertainment spend
Companies spend over $83 billion on meetings and conventions annually. But most organizations have no way of knowing exactly what's being spent, or where. Zentila's solution enables companies to capture 100% of their meetings data. Then we deliver this data in a variety of real-time reporting, adding transparency and controls to significantly reduce their meeting spend.
Collecting all of your meetings data is only part of the puzzle. Putting that information in front of your team – at the point when they're making decisions – will help you negotiate better and drive bottom-line savings.
Preferred Vendor Spend
It's good to know where you're spending, but even better to know which brand saves you the most on every dollar spent. Enlightenment takes your data a step further and shows you the ratio of savings versus spend. Enlightenment reports create a clear picture so you're your team can effectively influence preferred vendor spend.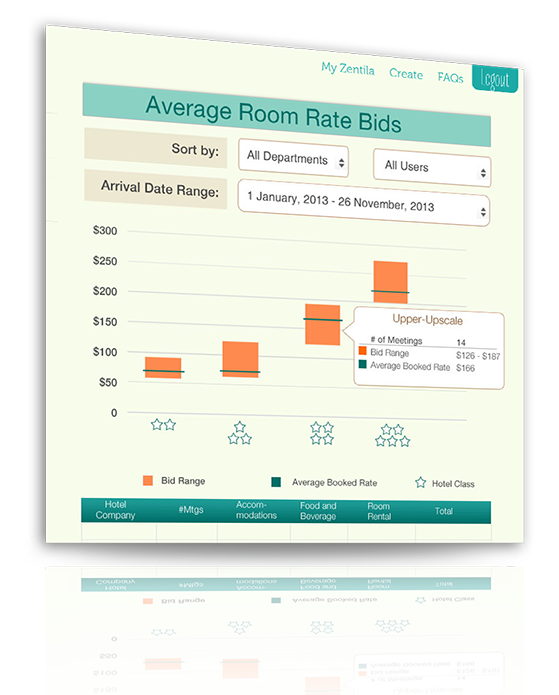 Control Room Rate Bids
At a glance, the Average Room Rate Bids report shows you where your company's booked room rates fall in the bid range. What is your average rate at a 4-star hotel? Identify the acceptable rate range for your company, and set policy to drive better decisions.
A Meetings Management solution
that delivers actionable data.
Enlightenment automates your meetings data capture, adding transparency to your total meeting spend while you take control of bottom-line savings. Let us show you how easy it is to begin capturing your company's meeting data.